by the Ayala Foundation
As part of its continuing efforts to support vulnerable communities affected by the COVID-19 pandemic, Ayala Foundation, the social development arm of the Ayala group of companies, kicked off in July the implementation of Project #BuyAni, a food assistance initiative for 10,000 families in different parts of the Philippines.
Funded by a grant from the Macquarie Group Foundation, Project #BuyAni seeks not just to provide food for affected communities, but also to source these food items and other essential goods from local farmers and community partners. This way, local farmers and enterprises continue to have a source of income during the pandemic.
#BuyAni is a play on the words "buy" and "ani" (harvest), which literally means to purchase the harvest of farmers. Also, "BuyAni" sounds like the Filipino word "bayani," which means "hero"—a good way to remind Filipinos that supporting local farmers and communities is an act of heroism.

Among the locations reached by the project are: Datu Piang, Maguindanao; Cagayan de Oro City; General Santos City; Calauan, Laguna; El Nido, Palawan; Naic, Cavite; Iloilo City; Bago City; Cebu City; and several cities within Metro Manila, among others.
The distribution in the village of Ma-ao, Bago City, focused on 100 families of senior citizens, persons with disabilities (PWDs), and motorcycle drivers. The community partner for the activity was the Bago City Government Employees Multi-Purpose Cooperative. The city government, the barangay council, and the Ayala Business Club Bacolod also actively supported the initiative.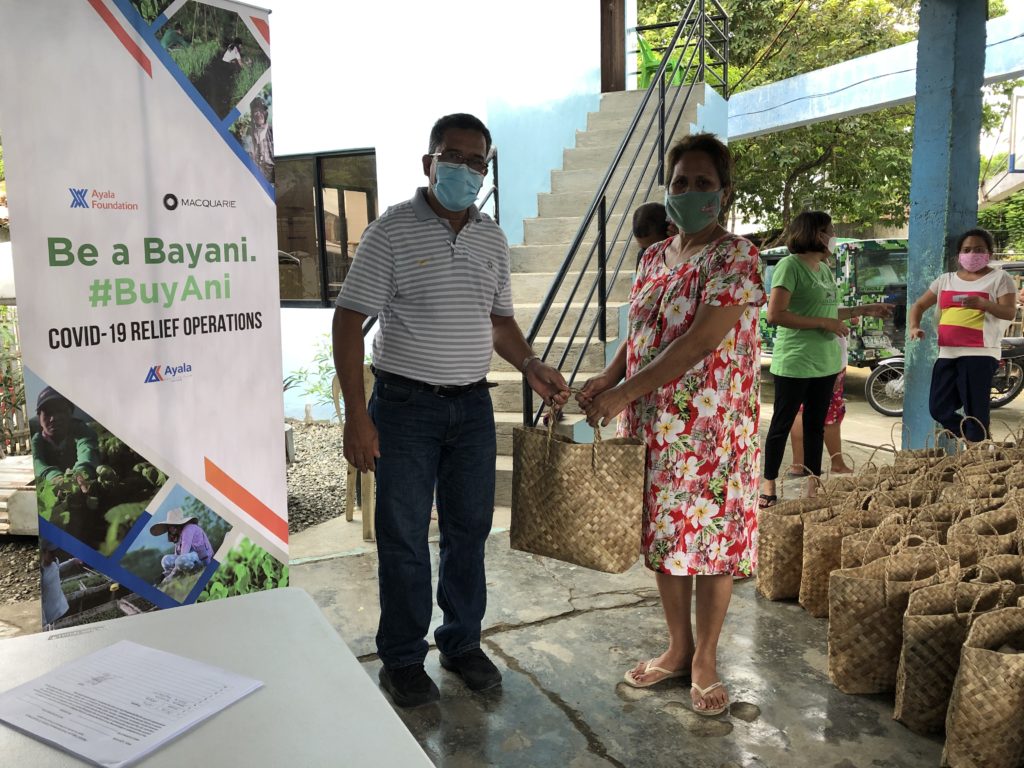 In Iloilo City, the distribution was held in the village of San Rafael, Mandurriao, Iloilo City, with 200 beneficiaries. The relief packs contained vegetables and fruits from the KASAMA Multi-Purpose Cooperative, with bags/bayongs woven by Tagbak Mat Weavers from Concepcion, Iloilo. The Ayala Business Club also provided valuable support in terms of logistics and local coordination.
In Calauan, Laguna, 800 food packs were distributed to members of the Inang Kalikasan Agriculture Cooperative, on-site security and Makati Development Corporation personnel, and other families living in the Southville 7 relocation community. Each bag contained locally sourced vegetables, dressed chicken, rice, and eggs, using upcycled flour bags made by the parents of students from CENTEX, Ayala Foundation's education program.
In General Santos City, 400 families coming from the farthest barangays (villages) and the indigenous B'laan community received food aid.
In Cagayan de Oro City, food distribution focused on 400 families from the following vulnerable sectors—the indigenous Badjao group, PWDs, children in conflict with the law, the homeless, and rebel returnees.
In Datu Piang, Maguindanao, food assistance was provided to 60 families living in barangay Montay, a weaving community known for beautiful inaul textiles.
In El Nido and Taytay, Palawan, woven bags sourced from the artisan women weavers were put together by local volunteers, with produce sourced from local farmers.
About Ayala Foundation
As the social development arm of the Ayala group of companies, Ayala Foundation envisions communities where people are creative, productive, self-reliant, and proud to be Filipino. Ayala Foundation is committed to community development, working closely with communities in identifying compelling developmental needs and providing suitable solutions with measurable outcomes. Its main program areas are Education, Community Leadership, Suitable and Sustainable Livelihood, and Arts and Culture.
For more information, visit www.ayalafoundation.org