by Naomi Wang
Whilst life as we knew it came to a halt in the wake of a global pandemic, our planet, on the other hand, gained some respite. Muddy, grey fog unveiled clear, blue skies; the noise of engines and traffic paused for the sound of peace; wildlife emerged from their places of hiding. As philanthropists, these signs give us a glimpse into what we should aspire to be and as we think about how to build back our societies post-pandemic, it is important not to lose sight of this.
Motivated by this, APC hosted its sixth online dialogue since the outbreak of COVID-19, focusing on how to approach our climate issues in Asia. Members were invited to hear and learn from a distinguished group of speakers from the scientific, philanthropic, and non-profit communities.
In his opening remarks, APC CEO Laurence Lien noted the similarities between the COVID-19 and climate change crises: both demand that we listen to scientists; both represent systems failures, and both have brought to light fundamental questions on the impacts of capitalism and consumerism on our societies and environment. That being said, he warned that climate action will likely be more difficult than the direct response we have seen to the global health pandemic, and that moving forward, collaboration will be crucial.
To kick-start the presentation, Incoming Director of the Earth Observatory Singapore, Professor Ben Horton, addressed the key climate change impacts in the region. He anticipates that by the year 2100, over 1 billion people will be living in low-lying areas subjected to frequent flooding and 70% of these will be in Southeast Asia, the most vulnerable region in the world to climate change. Professor Horton stressed that 'The difference between a low and high emissions scenario is profound with sea-level rise', and that changes in sea-level are driven by a variety of temporally and spatially variable processes, including groundwater withdrawal and tectonic vertical motion.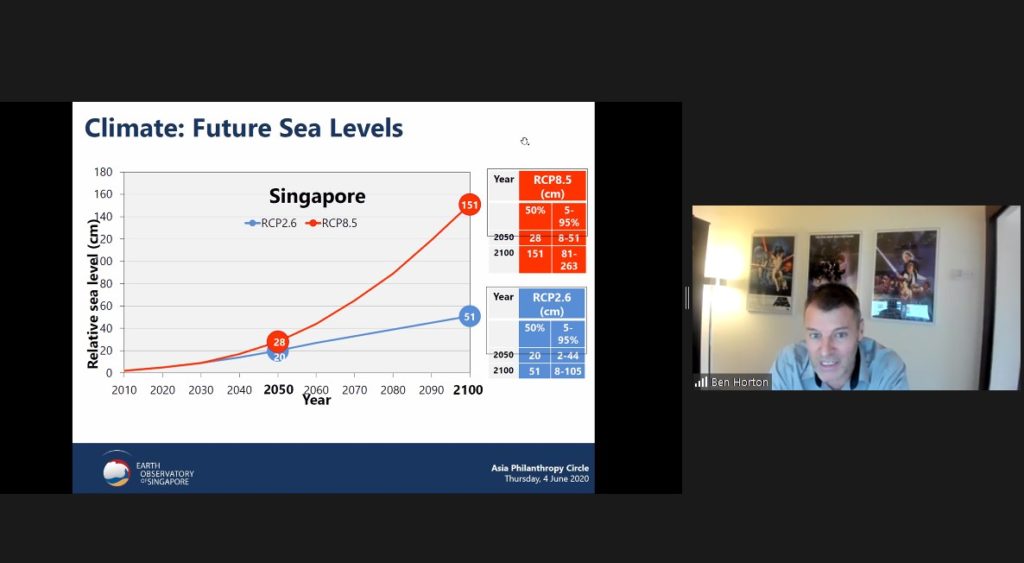 APC members asked Professor Horton how glacial melting would affect flooding and sea-level rise in Southeast Asia, to which Professor Horton explained that the melting of the remaining ice sheets would result in a staggering 70m increase in global sea-levels. Thus, even a small percentage of glacial melt would bring catastrophic changes to the region, affecting everything from food security to biodiversity. Nonetheless, Professor Horton remained hopeful. He shared that daily greenhouse gas emissions had fallen an unprecedented 17% since early the start of COVID-19 when compared to 2019 levels, and this progress must be built upon moving forward. Philanthropists can help by listening to the experts, and raising awareness of the issues in the region to contribute to building a robust response to the climate challenge of sea-level rise. That way, it paves the way to introduce structural changes to the economy and instilling behaviour change.
Kristian Parker, Vice-Chair of Oak Foundation, and co-leader of the Foundation's work on Environment, offered insights from a climate funder's perspective. Kristian explained that the programme mainly operates through grantmaking, and its network of partners- including universities, think-tanks, technical experts, NGOs, and advocacy groups. He also emphasised that collaboration is an important part of Oak's strategy to amplify impact, as they strongly believe in building capacity in each of those organisations, so that their strength can outlive the Foundation's funding. His final comment to APC members and guests was to encourage risk in the course of their philanthropic actions. 'If we're not taking enough risks where we're failing, we are simply not being ambitious enough.' As an advocate of 'learning by doing', Kristian encouraged philanthropists who are new to climate to simply get started, perhaps by finding issues that intersect or overlap with their existing interests and portfolios, as a first step.
On that note, the Active Philanthropy team, consisting of Dr. Felicitas von Peter, Dr. Johannes Lundershausen and Janek Steitz led a workshop-styled segment of the webinar, and introduced participants to their user-friendly framework for philanthropists looking to intervene in the climate crisis. The team guided attendees through the four dimensions of the framework: issues, regions, levers of change, and timing. Ultimately, it was clear that there are many possibilities and opportunities for philanthropists looking to engage in climate action, and that philanthropists can begin their journey by identifying issues and levers that are of personal importance to them.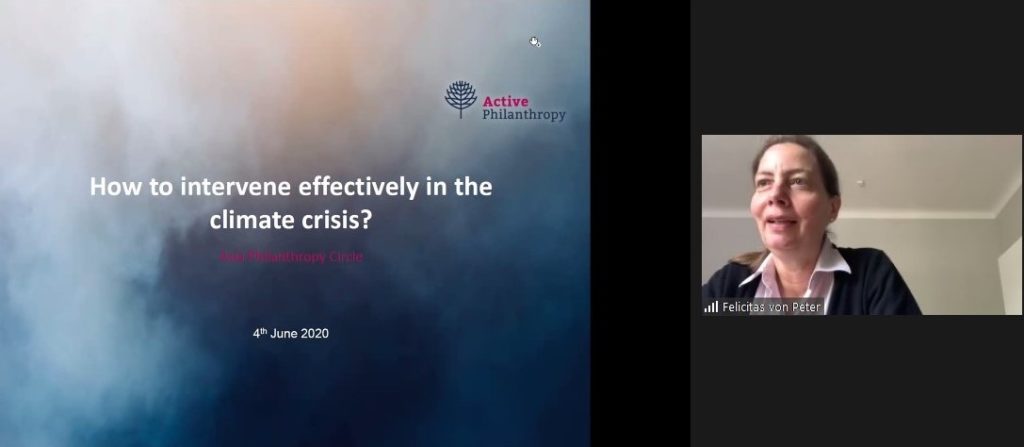 It was recommended that philanthropists adopt a climate lens to view their existing portfolios, to consider how their focus areas could be addressed more holistically in the face of climate change impacts. Felicitas additionally emphasised the importance of financial markets in moving towards a more sustainable future, and suggested that philanthropists could play a greater role in driving a shift away from traditional models of investment.
From learning the framework, participants then had regional speakers to share their perspectives on what could be done. Dr. Rodel Lasco, Director of the Oscar M. Lopez Centre in the Philippines discussed about the balance between mitigation and adaptation. Dr. Rodel explained that "in the Philippines, the main issue is adaptation, because our vulnerability far exceeds our greenhouse gas emissions", which currently constitute a mere 0.3% of global emissions. Attendees also heard from Khun Kanin Kaewin, General Manager of Blue Carbon Society. The Society tackles the issue of plastic pollution by working closely with the Ministry of Education to raise awareness in schools, and seeking circular solutions to reduce canal debris in Bangkok. When asked about the difficulty of behaviour change in communities, Khun Kanin shared that it is most challenging amongst the vulnerable. However, when these communities see the tangible, economic benefits, they are more willing to change, and the Society's projects help them to realise this.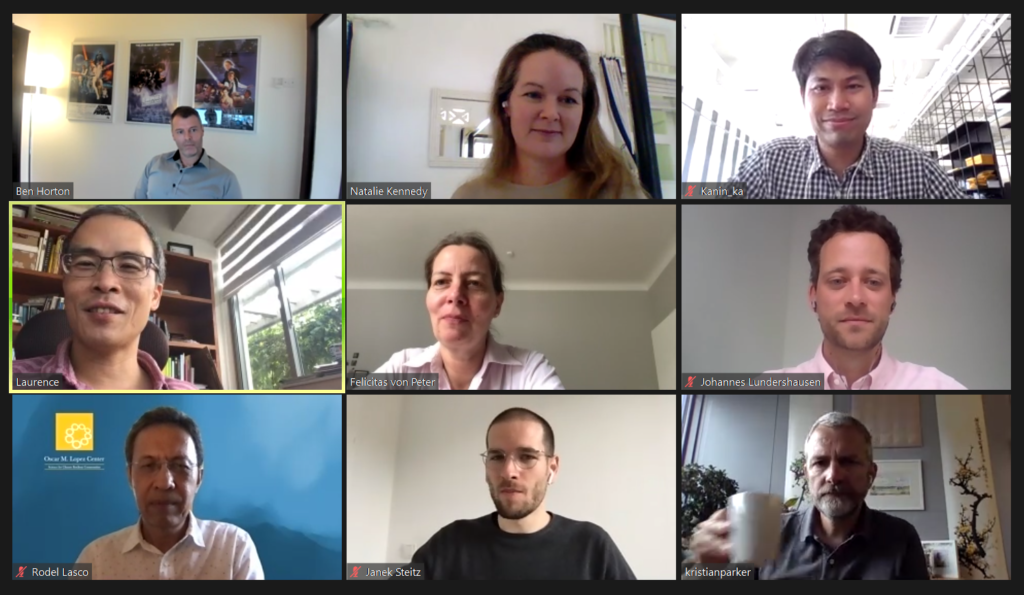 To conclude the session, Laurence once again emphasised the importance of collaboration to tackle an issue as large and as complex as climate change. No single government, philanthropist or NGO can solve the climate crisis alone. Philanthropists can come together, alongside experts, governments, businesses and NGOs, to build the climate action ecosystem in Southeast Asia, in the hope of restoring and regenerating our planet for the generations to come. In light of this, he shared that APC is in the early stages of exploring a potential collaborative climate change fund, and invited members to contribute to shaping the direction of the fund in the coming months.
As we come out of the global pandemic and resolve to 'go back to the way things were', we should remain committed to nurturing the environment and tackling climate change at the same time. As philanthropists, not only is it our job to return to what our reality was, but also, to fill in the gaps that existed so that we might build back a resilient and sustainable world both for us, and for our planet, moving forward.