BY LARRY SHAW AND ALEX BOOME
Mutually sustainable global trade improves life standards.
According to the Asian Development Bank, over the past 25 years, more than 950 million people in the region have been lifted out of extreme poverty, infant mortality rates have fallen, and marked improvements have been seen in terms of basic literacy, vocational training and university education. It is clear that the prosperity provided by cross-border trade has made a significant contribution to these outcomes.
"Global trade improves lives and strengthens relationships among nations," said Merle A. Hinrich, APC member and Founder of the Hinrich Foundation, an Asia-based philanthropic organisation working to advance sustainable global trade through research and education programs.
However sustainable trade practices are not intuitive. They must be taught. This is the raison d'être of the Hinrich Foundation. Its flagship educational endeavour is the Master of Global Trade program (MGT) – a partnership between the Royal Melbourne Institute of Technology (RMIT University) and a host of leading companies from across global trade value chains.
The Hinrich Foundation conceptualised the program to pioneer a new approach to learning and curriculum development through a collaboration of business, academia and the non-profit sector.
Perhaps most unique is that the MGT was created by employers, for employers. The organisations who have employees enrolled in the program become 'Employer Partners' and have an ongoing say in the continued development of the curriculum to ensure the skills being taught are the skills employers need. Employer Partners also make their executives available to serve as guest lecturers. This emphasis on employer engagement recognises the importance of business – from multinationals to SMEs – in economic development, through investment, employment, supply chain networks and taking a leadership role on issues that affect communities.
Graduates receive a Master of Global Trade degree conferred by RMIT University Australia and become members of the Foundation's growing alumni of Hinrich Global Trade Leaders.
All MGT instructors are practitioner professors with significant industry experience, teaching expertise and a PhD. The Program also offers flexibility for working students as its 12 courses are delivered in three stages: Graduate Certificate of Global Trade, Graduate Diploma of Global Trade and the Master of Global Trade.
Students must have at least three years of professional experience (the current average is 12 years), and they may continue to work full-time while studying with an international cohort of fellow trade leaders.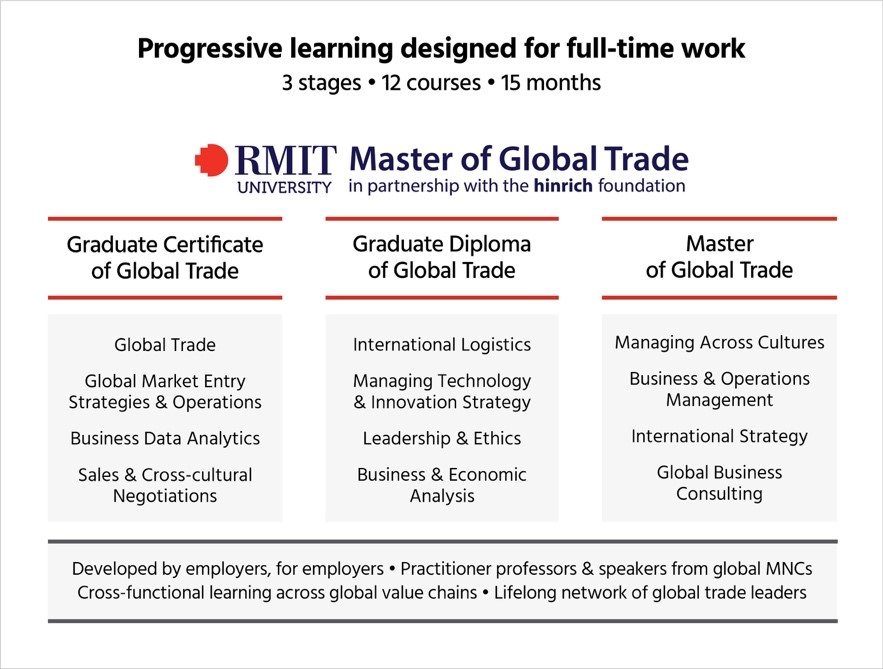 Launched in December 2019, the Program was designed as a hybrid of online learning and monthly in-person 'intensives' at RMIT's Vietnam campus in Ho Chi Minh City. Given this approach, when COVID-19 halted international travel, RMIT was quick to pivot to a fully blended learning mode, with professors and students joining remotely or in-person for the intensives as the situation allows.
The Hinrich Foundation, established in 2012, was born of Merle Hinrich's experience as a successful innovator in global trade for over five decades. While working to promote trade in Japan, Taiwan and Korea, he came to understand both the market need to enhance trade by effectively connecting Asian manufacturers with Western buyers on a large scale, as well as the power those connections could have to bring about positive social change.
In 1970, Mr Hinrich founded Hong Kong-based media company Asian Sources (now Global Sources) and a year later started publishing a series of trade publications serving a wide range of export sectors. The Statement of Purpose on the cover of his first magazine captured the essence of his vision: "We believe that the cause for world peace through freedom from want is advanced by the establishment of long-lasting and mutually beneficial trade relations between private businessmen in the East and the West."
In the half century since that statement was published, Mr Hinrich has participated in trade-driven economic development throughout Asia and has witnessed the ongoing alleviation of poverty and improvements in healthcare and education that have been possible as a result of trade.
Mr Hinrich believes companies involved cross-border trade need to become more innovative and agile by evolving their approaches to production, distribution, risk management and talent development. In addition, the next generation of trade leaders will have to be prepared to advance good business practices while also navigating significant disruptions caused by geopolitical and technological changes, as well as unforeseen global impact events such as COVID-19. Hence, the need for, and establishment of, the Master of Global Trade program.
The Hinrich Foundation underwrote the development of the programme, encouraging industry engagement and executive participation through scholarships, covering full tuition for the first two of the three stages of the programme. Companies are invited to award one Hinrich Foundation-funded scholarship to their up-and-coming leadership staff, and another to a person in their community. This enables them to use the scholarship opportunity to assist with talent acquisition, development, and retention of their leadership team.
After completing the scholarship-funded first two stages, students and employers who find value from the program may continue with the third and final Master of Global Trade stage at their own expense. The fact that 85% of students from the Program's first cohort continued to the master's stage – either funding it on their own, via their employers or a combination thereof – is validation of the value of the Program.
To date, the MGT has onboarded three cohorts totalling 75 scholars from 15 countries. These executives are working full-time with companies including VF Corp, Samsung, DHL, HSBC, Nestle and a host of SMEs across global value chains. The first MGT cohort graduated in June 2021, while two cohorts are currently undertaking the program. The next cohort will be onboarded in October 2021.
The outcome of the MGT is better-trained executives in leadership roles that are equipped to help grow their companies sustainably. This is of critical importance as it creates quality jobs for the growing labour force in the region and ensures the benefits of trade continue to accrue to billions of people across Asia.
To that end, Mr Hinrich is inviting like-minded philanthropists interested in offering branded scholarships for young executives in specific countries or regionwide. "We see how investing in leadership talent in trade helps to create employment across a wide range of society," said Mr Hinrich. "These are the jobs critical for national development and sustainable employment for the next generation.
"Our goal is scale and impact for a more prosperous, inclusive future through innovative trade education and quality partnerships. We invite others to join us in making a lasting difference in improving society and people's lives."
For information about how to support philanthropic and national development goals through trade education with the Master of Global Trade program, please contact Larry Shaw at [email protected]
Main Image Caption:
All MGT graduates become life-long members of the Hinrich Foundation Alumni Association, dedicated to promoting sustainable trade practices throughout their careers. Merle A. Hinrich (center) stands with members of the Alumni Leadership Committee.