by Stacey Choe
It was the second edition of The Givers Network and it did not fail to disappoint and instead managed to surpass its inaugural one. The event's main speakers were truly inspiring – from Thai stalwart, Dr. Mechai Viravaidya, Mr. Condom himself, to San Francisco grassroots philanthropist Bill Somerville, and 12 year old youth activist, Lilly Satidtanasarn, the audience was treated to an incredible mix of changemakers who truly embodied the spirit that "everyone can give", and each truly in their own way.
Whether you wanted to learn more about philanthropy from a strategic and intellectual approach, or be purely inspired by passion and sacrificial kindness, there was something to learn from everyone.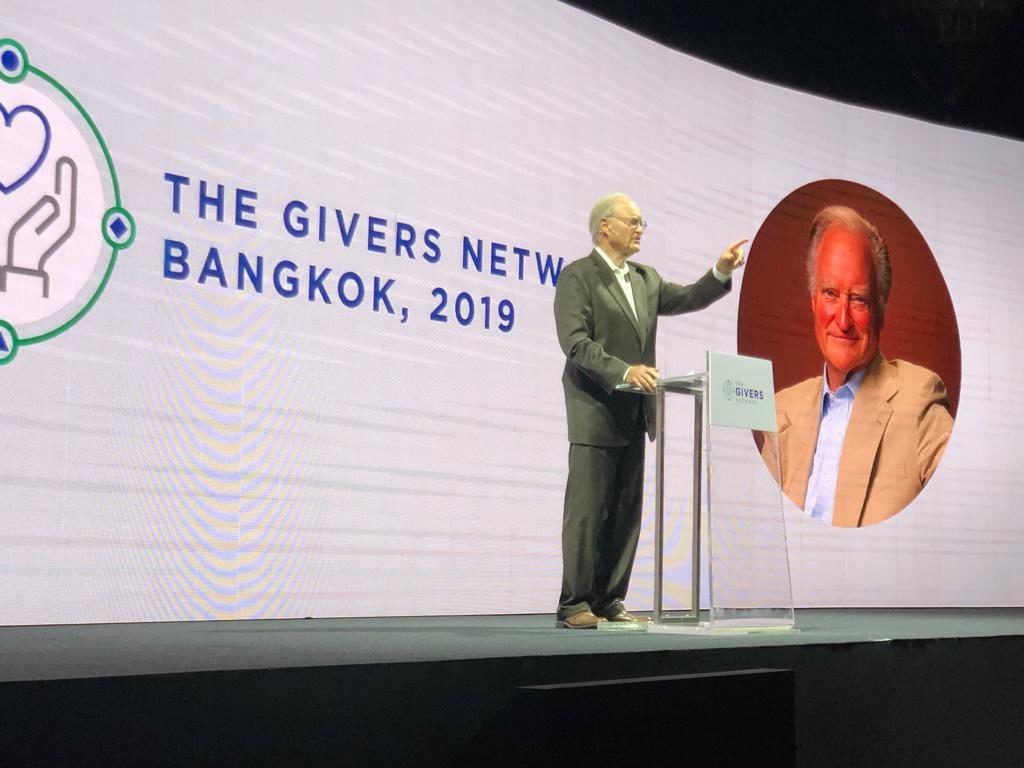 Bill Somerville set the tone by explaining about his brand of grassroots philanthropy – which strongly espoused trust, spontaneity and risk-taking. For the APC members who went on the US Learning Journey earlier this year, you will remember Bill's enthusiasm that affected many on the trip.
Lilly the champion against single-use plastic who goes paddle-boarding to pick up trash from the Bangkok canals infected everyone with her youthful optimism and message of setting by example.
Dr. Worawit Tantiwattanasap awed with his arduous work in the Thai borders, setting up health clinics, providing midwife kits, fighting infectious diseases; all working under the toughest conditions.
Dr. Mechai's long career in population control, family planning and fight against HIV won him many accolades. But what piqued our interest is his "Bamboo School", which he designed as a "gateway to the community". The students were not only trained to be independent leaders and entrepreneurs, but they also help the communities through their successful farming programmes.
In the afternoon, there were three breakout sessions on Ocean conservation, early childhood development and eldercare. APC facilitated the eldercare session and it was an insightful discussion that deepened our understanding into the Thai health ecosystem, its culture towards the elderly and many other underlying social issues.
We definitely hope that those who attended found the event as inspiring and to also explore collaboration to address the rising needs of the elderly in the second fastest ageing society in Asia. We at APC certainly look forward to contribute for everyone interested!