As COVID-19 disrupted learning globally on an unprecedented scale, what are some programmes that have achieved good results in addressing education loss?
BY XIANG MIN LIM
The COVID-19 pandemic has disrupted learning on an unprecedented, global scale over the past two years. With widespread school closures, education loss has unevenly affected different socio-economic classes of students, with the 'bottom of the pyramid' bearing the biggest losses.
Inspired by current projects in Thailand supported by APC Members from Firetree Philanthropy and Khon Thai Foundation, APC brought together experts to examine Thailand's education landscape and present recommendations on education recovery. Exploring three themes of improving access to education, the need for local context, and collaboration, speakers shared on their impactful local and regional edtech models that have so far achieved good results.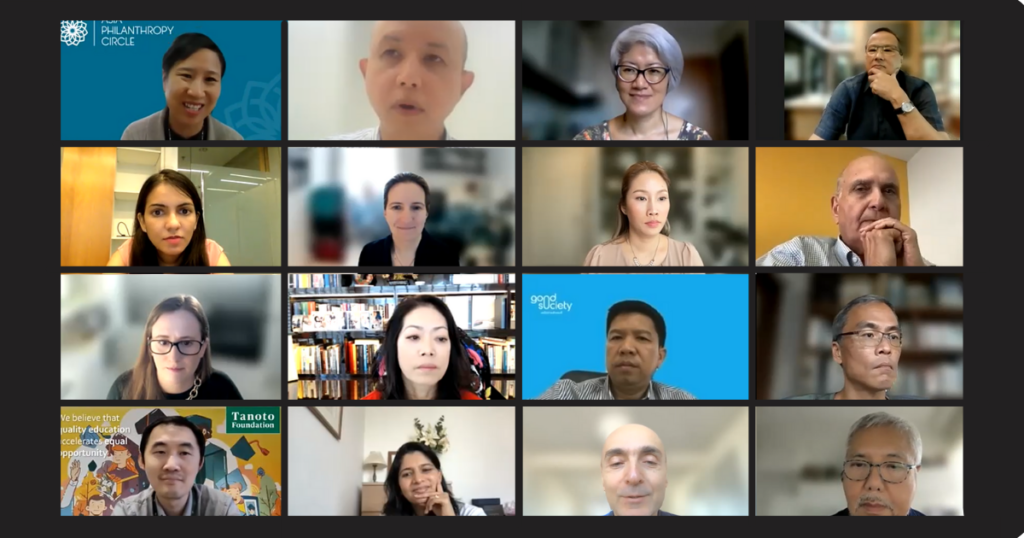 Improving Access to Education
A growing number of education-technology solutions (edtech) have been working to equalise access to learning, and is increasingly seen as the best means to address school disruption—by bringing the classroom to the home via technology. However, edtech has its limits; this is most acutely felt in the last mile outreach, as those who need them most have the least access to hardware, software, and internet which are necessary for edtech to function.
Research has also found that socio-economically disadvantaged students do worse than their peers with online-learning—and this is consistent across five markets in Indonesia, Malaysia, Philippines, Thailand, and Vietnam, according to education-focused consultancy Better Purpose in their White Paper on EdTech in Southeast Asia commissioned for the Octava Social Innovation Challenge. Co-Founder Cate Noble shared that there is little evidence that the 'bottom of the pyramid' is being well-served by edtech due to accessibility issues. Many successful edtech providers focus on the private market, alienating the larger public-school population who tend to be from lower-income families.
These findings are similarly supported by research from Global School Leaders (GSL), an international organisation focused on developing school leadership. GSL Senior Director Dewi Susanti shared that in their Annual Pulse Survey (2021), which sought to quantify the pandemic's disruption on schooling, GSL found that 60% of schools surveyed reported less than half their students having access to technology—and this number is higher in both lower and lower-middle income countries (78%) and rural areas (74%).
Other challenges exist. Equitable Education Fund (EEF) Thailand, a government organisation that supports agencies to expand equitable education opportunities, has been tracking student needs over the pandemic. A survey of disadvantaged students revealed factors such as access to nutrition are proportionately related to higher dropout rates. Dr Pumsaran Tongliemnak, Specialist Level Education Economist at EEF, also highlighted that only 10% of the extremely poor in Thailand had any access to computers, laptops, or smartphones—and bridging these gaps continue to be the main challenge for edtech solution providers.
Need for Local Context
With a growing ecosystem of edtech providers, solutions also need to adapt content to the local context—a point international players often miss. Starfish Education, one of Firetree Philanthropy's longstanding projects in Thailand, has been working directly with schools under its ecosystem to successfully deliver their edtech products. Starfish CEO Dr Prae Seributra shared that their goal is not to create a replicable model, but rather to help schools design personalised interventions for their students. This approach has enabled Starfish to develop localised solutions for pandemic-time intervention, ensuring content was relevant to end users—a major key to success.
Another organisation that has successfully adapted to the local context and changing needs over the pandemic is Pemimpin, GSL's Malaysia branch. During its initial incubation under YTL Foundation and APC, Pemimpin successfully adapted the GSL curriculum to suit Malaysia's needs. Over the pandemic, they also successfully leveraged edtech and pivoted to virtual offerings, which enabled them to grow their cohort sizes and expand their programmes into rural areas.
Pemimpin also expanded their virtual fellowship programme to include mid-level leaders and teachers; CEO Cheryl Ann Fernando shared that this came forth upon realising initial applicants were largely above 50 years old—limiting long-term impact—and after consulting with the Ministry of Education on how to address this.
Collaboration
The complexity of education recovery requires all stakeholders to collaborate in finding solutions to address this issue. It ensures that different players can address varying needs of both students and educators, as well as the infrastructure in the education ecosystem.
Khon Thai Foundation, through their Thailand Collaboration for Education (TCFE) platform, brings together organisations addressing different needs in the education sector. Tanin Timtong, Co-Founder of Learn Education—one of the organisations under TCFE—shared how organisations under the TCFE platform address different aspects of education recovery—from scholarships to teacher pipeline to edtech solutions. However, he shared, impact is limited if schools continue to be underserved, even if students are provided with scholarships; a more comprehensive approach is needed.
The Thai government, recognising the importance of collaboration, has been open to working on cross-sector projects. In one such collaboration, shared Dr Pumasaran, EEF worked with 11 government ministries and real estate company Sansiri to launch the "Zero Dropout Project," which encourages students who dropped out of school to return to the classroom.
Closing the Education Gap
There are many avenues for philanthropy to support education recovery. Philanthropists could focus on the 'bottom of the pyramid' segment of students, who have been disproportionately underserved during the pandemic. Alternatively, they could also help enable edtech providers to extend their programmes to public schools, where they're needed most, or support schools in bridging the hardware, software, and technology gaps. Other possible interventions include investing in social impact bonds that target education recovery, or training educators in digital literacy.
Education recovery will need all hands on deck to improve equitable access to opportunities, especially post-COVID, and as always, APC is happy to support its members who wish to explore these possibilities.