by Jiaxin Xu
In early May, APC members made a combined contribution totalling over $600,000 to three NGOs serving Singapore's migrant worker community. Here, we spotlight Tanoto Foundation's donation of Personal Protective Equipment (PPE) to the medical charity Healthserve, marked by a virtual handover event held on 20 May 2020.
On Wednesday evening, representatives from Healthserve, Tanoto Foundation, and APC gathered in a Zoom meeting room to virtually witness the handover of the donated supplies. Michael Cheah, Executive Director of Healthserve, took us on a tour of their Geylang clinic and walked us through their operations as well as the situation on the ground.
Since the outbreak of Covid-19 was first reported in the migrant worker dormitories, commendable steps have been taken to protect the health, welfare, and income continuity of our dormitory residents. However, as Michael cautioned, there was a sizeable number of particularly vulnerable Special Pass workers who, having slipped through the cracks, were facing imminent risks of homelessness and destitution. Almost all of these workers have had their employers cancel their visas after they suffered a workplace injury or raised a dispute over unpaid salaries. Many of these men had also been evicted by their employers, and received little to no upkeep from them.
Michael explained that, usually different charities catering to migrant workers are able to help this population during challenging times. However, due to the COVID-19 pandemic, non-profit organisations themselves are facing their own difficulties. Hence, this is where Healthserve steps in where in addition to serving the medical needs of the workers, they are intensifying their direct assistance schemes to Special Pass holders in urgent need.
During the exchange, Michael also shared Healthserve's own challenges during this period. Their volunteer doctor strength fell by up to 95 per cent on the back of the Ministry of Health's directives to minimise risks of cross-infection, and in order to maintain continuity of service, Healthserve's team has stepped up on their tele-medicine and tele-counselling programmes, with innovative use of tools like Zoom to deliver more attentive care.
In his remarks, Satrijo Tanudjojo, CEO of Tanoto Foundation, recognised migrant workers' important role in Singapore's growth and success, and praised Healthserve for its dedication to workers' welfare in this time of need. His sentiments were echoed by Laurence, CEO of APC, who also thanked the Tanoto Foundation for its generosity, and hailed APC's quick collective response.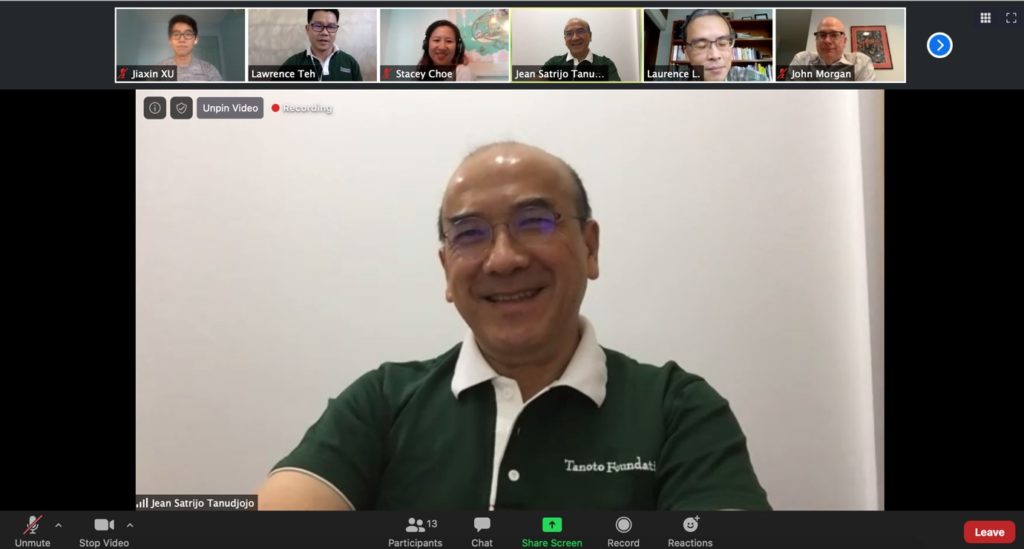 With the recent lifting of a Stay-Home Notice order for construction workers, Michael shared his expectation that the clinics will serve a growing number of workers in the coming weeks. APC members' cash grant and PPE donation would therefore support its critical work in catching up with the workers' health and financial needs. APC hopes to continue with helping Healthserve and their beneficiaries, while at the same time, play a role in catalysing positive changes for the migrant worker community in Singapore.
---