Alexis Wong (Intern)
Alexis joined the Asia Philanthropy Circle as an Intern in January 2021. Prior to joining APC, she interned at the Ministry of Social and Family Development, as well as Singapore's leading civil society organisation Association of Women for Action and Research (AWARE) under their Research, Advocacy and Communications Department. With a keen interest in social issues, she regularly volunteers with various organisations working with diverse beneficiaries, but most consistently enjoys working in the area of education to improve children's literacy.
In her spare time, she likes to tell people she enjoys literature, so she sometimes reads good books. Alexis is currently pursuing her undergraduate degree in Sociology at the National University of Singapore, where she has been awarded the NUS Merit Scholarship.
---
Bradley Wo (Senior Associate)
Bradley Wo joins APC as a Senior Associate.  Bradley completed his Master's degree in China Studies at the Yenching Academy of Peking University in 2019 with a thesis titled "Charitable China: An Analysis of the Top 50 Philanthropists".  He is excited to continue working with Asian philanthropy in his new role at APC.
Originally from Hawaii, Bradley has worked at foundations, non-profits, and international development aid organisations in the US and Asia.  He has also co-founded the non-profit, Learning Across Borders, to grow environmental education opportunities for students in the Asia-Pacific region.  Bradley has received a B.S. in Science, Technology, and Sociology from Stanford University and participated in International Honours Programme's Social Entrepreneurship Programme in Brazil, India, and Uganda.  A newcomer to Singapore, he is exploring as many aspects of Singapore's amazing food culture as he can.
---
Chai Ning (Impact Associate)
Chai Ning joined the Asia Philanthropy Circle as an Impact Associate in February 2021. She has a diverse range of volunteering experiences with grassroots organisations around the world, including improving community nutrition and farming programmes with Malawi Schools Permaculture Clubs, coordinating volunteers to promote walking as a form of sustainable transportation with Feet First in Seattle and leading a lunchbox rental project at the National University of Singapore to reduce the use of disposables. While her topical interests are broad, they are brought together by her passion for using innovative and systems thinking tools to create positive change in communities.
Chai Ning graduated from the University of Reading with a Master's degree in Food Security and Development in 2020 and also holds a Bachelor of Environmental Studies degree from the National University of Singapore.
---
Cindy Hsiao (Associate)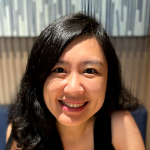 Cindy joined Asia Philanthropy Circle as an Associate in April 2021. Cindy has eight years of
experience serving in the social enterprise, grant-making and non-profit space. Her previous
roles include supporting the stewardship and evaluation of Australian social enterprise
Thankyou's impact and funding portfolio across water, sanitation and hygiene; maternal and
child health; and food security programmes in low- and middle-income countries such as
Nepal, India and Bangladesh. Since moving to Singapore, Cindy has been volunteering with
various organisations serving migrant workers and is currently involved in capacity-building
initiatives. 
Cindy is passionate about working with funders, non-profits and underserved communities themselves to sustainably improve the wellbeing of these communities. She holds a Master's degree in Public Health and a Bachelor of Commerce from the University of Melbourne. 
In Cindy's free time, she enjoys busting out a barre class or two and to balance it out, indulges in Singapore's many culinary delights.
---
Elaine Khoo (Operations Manager)
Elaine is Operations Manager at the Asia Philanthropy Circle.  She has extensive experience in human resource, office management and quality management system in various sectors to include education, manufacturing, consulting and IT.
She headed the HR, Administration and Quality departments of a systems integration company in Malaysia for 13 years and also led the company into achieving its ISO 9001 Accredited Certification and maintaining it thereafter.  Prior to joining APC, she worked for the Asian Venture Philanthropy Network's Chairman for three years before joining their Singapore office as Office Manager.
In her free time, Elaine loves a good workout at the gym.  She also enjoys listening to music and watching movies.
---
Li Li Tan (Finance and Governance Manager)
Li Li joined APC as Manager, Finance and Governance.  She has held leadership positions in several nonprofits ranging from children and youth sector, special needs and mental health sector.  Li Li's passion lies in the nonprofit sector and she volunteers during her free time.  She is one of the many volunteer mentors with Centre for Nonprofit Leadership providing mentorship to aspiring new leaders, and she also chairs one of Kaplan's Industry Boards to provide guidance and inputs on latest industry trends.
Prior to joining the Social Service sector in 2006, Li Li spent 12 years in the corporate world, and held key roles in multinational corporations and also led finance teams in a regional headquarter based in Singapore, setting up finance structure and accounting systems in the region.
Li Li holds a Bachelor in Business and Business Administration from RMIT University and has completed an executive Leadership programme in Nonprofits from Duke University.
---
Liu Jing (APC China Philanthropy Fellow)
Liu Jing is from China and joined APC as the APC China Philanthropy Fellow in June 2021. Liu Jing has worked for 17 years in the nonprofit sector in China. Her work covered areas such as education, volunteer service, community, environmental protection, strategy and governance.
Liu Jing has also served as a consultant and volunteer mentor to nonprofits and the private sector, advising on programmes, communications, fundraising, management and strategic philanthropy.
She holds a Master's degree in Public Administration from the National University of Singapore. She is delighted to be able to begin her journey of learning and serving in the field of philanthropy in Asia through APC, and to offer her experience from working in China. In her spare time, she likes reading and music. Running is also one of her
favorite things to do, and she particularly enjoys the fresh air in Singapore.
---
Mafruza Khan (CEO)
Mafruza Khan has over 20 years' experience working in the social and philanthropy sector at the intersection of environmental, social, governance and economic issues. Prior to joining APC, she started the Bangladesh office for Porticus, the strategic advisory of the family philanthropy for the Brenninkmeijer family, and led its strategy and operations as its first Country Director.
Previously, she served both as a Strategic Consultant and a Philanthropy Advisor (to non-profits, foundations and intermediaries), and also served at the Environmental Grantmakers Association where she led programmes in research, member engagement and convening. In her early years, her work centred on research on sustainable urban development, labour rights and investor responsibility.
Mafruza has a Bachelor's Degree (1st Class Honours) and a Master's Degree in Economics from Dhaka University, and received a World Bank Graduate Scholarship to pursue a Master's in City and Regional Planning from UC Berkeley.
She is passionate about the potential of 'beneficial technologies'; the necessity of social movements to enable a systems shift to a low-carbon, zero-waste society; and facilitating new structures for social inclusion, particularly for those who have been historically and culturally marginalised.
---
Margie Ong (Malaysia Country Representative)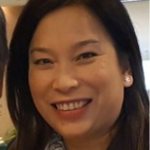 Margie is the CEO of Thoughts In Gear, a sustainability and social impact consulting firm. She works with corporations to include sustainability and ESG principles into their core business; and with non-profits for strategic and systemic impact. Her goal is to translate good sustainability ideas into clear strategic frameworks, roadmaps, and executable action plans. Her team also works closely on reporting and measurement to global standards in ensuring that impact is well defined, tracked, and reported upon.
Graduating as an electrical engineer, Margie has Sustainability Leadership certification with the London Business School. Before founding TIG, she honed her work experience with The Boston Consulting Group, Intel, HCL, and the CIMB Foundation.
TIG's achievements include setting up Southeast Asia's first Sustainability Accelerator, producing Asia's Best Sustainability Strategy and Report, setting up Southeast Asia's largest Collective Impact Initiative for education, producing a Harvard-commended SROI Analysis for public health which has been implemented across 8 countries and published globally on AIDF, and most recently producing a COVID-19 Vaccine Management Country Guide that has been used across the world.
---
Mark Fiorello (Project Advisor)
Prior to relocating to Singapore and joining APC, Mark was based in Jakarta, Indonesia, where he co-founded and served as the director of SOLIDARITAS, an Indonesian social enterprise providing advisory, consulting and training services to the non-profit, development, and public sectors. 
Mark's experience prior to founding SOLIDARITAS includes developing the performance and impact assessment systems for a flagship USAID governance programme in Indonesia, establishing the IPA/J-PAL country office in Sierra Leone, and managing a survey of Ghanaian cocoa farmers for Oxford University.
Originally from the United States, Mark holds an MA in Development Studies from the University of East Anglia and dual undergraduate degrees in International Studies and Business from the University of Pennsylvania.
---
Mimi Vu (Vietnam Country Representative)
Mimi is a partner at Raise Partners, a consulting practice that helps non-profits, philanthropists, private sector, and governments work together to achieve their highest social and environmental impact.
She has nearly 20 years of non-profit experience in communications, policy, fundraising, law enforcement training, trafficking, and modern slavery prevention in supply chains, programme development, and advocacy for organisations such as Pacific Links Foundation, VinaCapital Foundation, International AIDS Vaccine Initiative, and the Council of Fashion Designers of America.
Mimi is considered one of the leading experts on Vietnamese trafficking and modern slavery and provides commentary for outlets such as The Washington Post, The Guardian, Forced Migration Review, BBC, Le Monde, Reuters, AP, VICE News, the South China Morning Post, and Sky News.
Mimi holds an MPA in International Policy from the New York University and is a native of Flint, Michigan. She has been based in Vietnam since 2006.
---
Mira Nadarajah (Senior Impact Associate)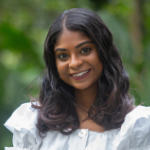 Mira joined Asia Philanthropy Circle as a Senior Impact Associate in January 2021. In her previous capacity, she was a Research and Evaluation Associate at the Centre for Evidence and Implementation where she worked with government agencies and foundations to assess the efficacy of interventions and their implementation, thereby promoting policy and service decisions that have the best chances of succeeding.
Mira holds a BA (Hons) in Psychological and Behavioural Sciences from the University of Cambridge.
---
Natalie Kennedy (Deputy Director)
Natalie is Deputy Director at APC and focuses on our membership, supporting collaboration between leading Asian philanthropists.  Prior to joining APC, Natalie led the Corporates & Institutions practice for Conjunct Consulting, a nonprofit organisation bridging private sector talent to capacity-building projects for social impact organisations.  In this role, she led cross-sector collaborations between multiple stakeholders including corporate foundations and social responsibility teams, grantmaking institutions, government statutory boards, nonprofit organisations, and social enterprises.
She has co-directed the PACE Schools programme for the past five years, investing in education and library initiatives in rural areas of Myanmar and Cambodia.  In the private sector, Natalie has worked in investment banking at Deutsche Bank, equity research at Morgan Stanley, and private equity consulting at Kurt Salmon Associates. 
She has a degree in Chemical Engineering from Princeton University.
---
Priyaka N Dhingra (Advisor)
With over 15 years of experience across Philanthropy and Finance, Priyaka has managed the social impact portfolio of Amit Chandra (Chairman Bain Capital India and Forbes Asia Philanthropy Hero) over the last decade and went on to set-up their family foundation, which is today among the largest grantmaking bodies in India.
She was nominated as a drafting committee member for the creation of India's National Social Stock Exchange (Ministry of Finance) and also contributed to the recommendations for India's National CSR Policy (Ministry of Corporate Affairs).  Her profile was chronicled in Rockefeller Foundation's 'Women Leadership in the Development Sector'.
In regional roles, she has been an advisor with Essilor Singapore for their Social Finance project and was a member of the senior advisory panel for Ashoka Changemakers' regional accelerator programme.
She holds a Master's degree in Business Administration from Management Development Institute, India and has done executive education from Harvard Business School in Nonprofit Management and Oxford University in Social Finance.
---
Stacey Choe (Chief Operating Officer)
Stacey assumed the role of COO at the Asia Philanthropy Circle in July 2021 after spending five years as its Director.  She is passionate about working with leading Asian philanthropists on furthering their strategic philanthropy in the region.  She served as the Membership Services Director at the Asian Venture Philanthropy Network for four years before her last role as Director of Policy Engagement.  She spent three years in China as the marketing director of a boutique Italian consulting company, specialising in communications, events management, market research and strategy.  In Singapore, she was responsible for regional incentive and rewards programmes at Intel Corporation, and prior to that, Stacey worked in the government sector on nationwide campaigns relating to social cohesion and national identity.
Stacey holds an MA in Social Anthropology of Development from SOAS, University of London, and a BA in Political Science and English Literature from the National University of Singapore.  She is a 2019 Asia Foundation Development Fellow, and has also co-founded a Lean In chapter for professional women interested in social issues in Singapore.
---
Suyin Liu Lee (Philippines Country Representative)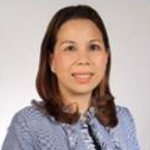 Suyin is the Country Head for 88tuition Pte. Ltd., a Singapore-based enterprise that provides video-based learning with the social objective of helping every child achieve their full potential.
She spent almost 20 years in the finance industry in the US and Singapore focusing on data analytics and product development for Charles Schwab and Franklin Templeton. Suyin engaged in community development activities including managing a Community Reinvestment Act loan portfolio, volunteering as a Loan Committee Member for the Women's Initiative for Self-Employment (WISE) and establishing a scholarship fund for Filipino college students. Upon returning to the Philippines, Suyin was appointed Executive Director for Asia Society. Her team pioneered cutting edge programmes in governance, economy, education, and culture to foster cooperation and impact across the public and private sectors.
Suyin holds a BA in Management Economics from the Ateneo de Manila University and obtained certificates in International Monetary Policy from the University of Vienna and Finance from UC Berkeley.
---
Theresa Cua (Communications Manager)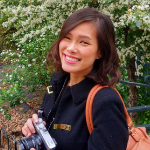 Theresa joins Asia Philanthropy Circle as Manager for Communications and Programmes in January 2021. Prior to her appointment at APC, she has worked largely in international, non-profit environments in her dedication towards making a difference in the world.
Her previous roles include managing the communications for the Asia-Europe Meeting (ASEM), an intergovernmental dialogue, under the Public Affairs Team at the Asia-Europe Foundation. She also headed branding, communications, and marketing at the VIVA Foundation for Children with Cancer, Impact Investment Exchange, the Singapore Committee for UN Women, and helped develop engagement strategies for the Cultural Exchange team during its inception years at the Singapore International Foundation. She began her career at the Konrad-Adenauer-Stiftung (Manila), working on its local government, political party reform, and Mindanao Peace Process portfolios.
Theresa graduated cum Laude with a BA in European Studies majoring in International Relations from the Ateneo de Manila University, and minor degree in French studies. She speaks—with varying degrees of fluency—English, Filipino, Mandarin, Hokkien, German and French, with a smattering of Japanese and Italian.
---
Van Ly (Vietnam Country Representative)
Van is a partner at Raise Partners, a new collaborative consulting practice bringing together expertise to share with organisations that contribute to the betterment of humanity.
She has 20 years of experience in non-profit fundraising and programme strategy, strategic marketing and communications planning and delivery, grant writing, corporate social responsibility and citizenship, as well as donor and stakeholder engagement.
Previously, Van worked at KPMG, Saigon Children's Charity, and East Meets West Foundation in Vietnam. Before moving to Vietnam, Van worked in non-profit organisations in the United States, including the International Campaign for Tibet, the Laogai Research Foundation in Washington DC, and ARISE Foundation, an educational non-profit in Florida that trains at-risk youth in life skills.
Van holds an MA in Southeast Asian Studies from the University of Wisconsin-Madison. Originally from Chicago, Van has been based in Vietnam since 2007.