by Johnny Tan
The rapidly intensifying effects of COVID-19 on livelihoods are proving to be a long term challenge which has fallen disproportionately on Asia with about 57% of projected global employment losses coming from across the region. Laurence Lien, CEO of APC, noted that while COVID-19 will continue to be the biggest challenge going forward – especially for those in vulnerable sectors and communities – it is not always immediately clear how philanthropy can fill the gaps. While much of the philanthropic response to the pandemic has focused on immediate needs such as disaster relief and the provision of medical supplies, the downturn of the economy is showing that philanthropy also needs to address long-term effects of the pandemic. Therefore, APC's online dialogue on 4 August focused on helping our members learn how to leverage philanthropy in aiding job creation, upskilling workers and improving the resilience of businesses.
Genevieve Lim, Engagement Manager at AlphaBeta, provided an overview of COVID-19's impact on ASEAN economies, which could see their forecasted growth rates reduced by between 3-11%. This translates into a staggering 5-8% decrease in total employment in 2020 alone, borne mostly by youths, informal workers, women, and foreign workers.  Particularly at-risk are jobs in the tourism, transport and personal services (hotels, restaurants) sectors.
Governments have responded by implementing policies such as wage support schemes and training packages. However, such measures are merely temporary, designed to hold the economy in an induced coma until the pandemic passes. The fallibility of this line of thinking and the long pathway to overcoming the virus suggests that job losses will continue to proliferate and livelihoods of people will continue to be disrupted.
So, how can philanthropy help?
Firstly, in the short term, philanthropy can complement public sector aid efforts by better identifying and targeting specific needs. While some communities are relatively well addressed by policies in some countries, it is imperative to ensure adequate coverage for all. Responding to a question from Lenny Marlina of United in Diversity, Genevieve explained that vulnerable groups such as senior workers will require more support, perhaps in the form of income support or retraining.
Secondly, given the prolonged nature of the pandemic, there is also a need to shift away from temporary stop-gap measures towards skilling for the long term. The focus here, as Meloney Lindberg and Hana Satriyo of The Asia Foundation explained, is very much on funding programmes that improve digital literacy. Asia Foundation introduced their 'Go Digital ASEAN' initiative, which aims to help 200,000 rural micro, small and medium enterprise (MSME) owners and underemployed youths across ASEAN. For example, by imparting basic social media marketing and digital tools to micro-entrepreneurs in the Philippines, the initiative helps MSMEs tap into fast-expanding online markets in order to sell their agricultural produce online. As AlphaBeta also observed, digitisation skills – ranging  from something as basic as video-conferencing etiquette to data analytics – remain very much in demand and can be key to employment.
Lastly, and very much in line with APC's philosophy, is the importance of collaboration for maximum impact. Wendy Walker and Sara Azfar of the Asian Development Bank (ADB) emphasised that philanthropy can play a crucial role in the co-creation, co-financing, and sharing of knowledge. While their COVID-19 response aims to address poverty and reduce inequalities, ADB is also enthusiastic about administering projects that philanthropists are passionate about, and has worked with key stakeholders like the Bill & Melinda Gates Foundation and the Rockefeller Foundation on a variety of issue areas. APC members can also collaborate with the Asia Foundation by commissioning impact evaluation studies or directly funding the 'Go Digital ASEAN' initiative to broaden the scope of the programme.
The dialogue also highlighted some of the initiatives led by APC members in the support of livelihoods. Ruel Maranan, Executive Director of the Ayala Foundation explained that the foundation based its initiatives on the three principles of speed, scale and stamina. Aside from introducing a digital literacy project in schools in the Philippines, the Foundation also raised USD $3 million of income support for employees through Project Pananagutan. APC Director Stacey Choe also shared that Tjahjadi Rahardja of Jababeka Group and Chew Kwee San of Straits Trading Company are working to help youths and SMEs, by creating competency training programmes and providing short term loans, respectively. At the same time, Andrew Forrest of Minderoo Foundation and Victor Hartono of Djarum Foundation are spearheading efforts to help vulnerable workers in the arts scene.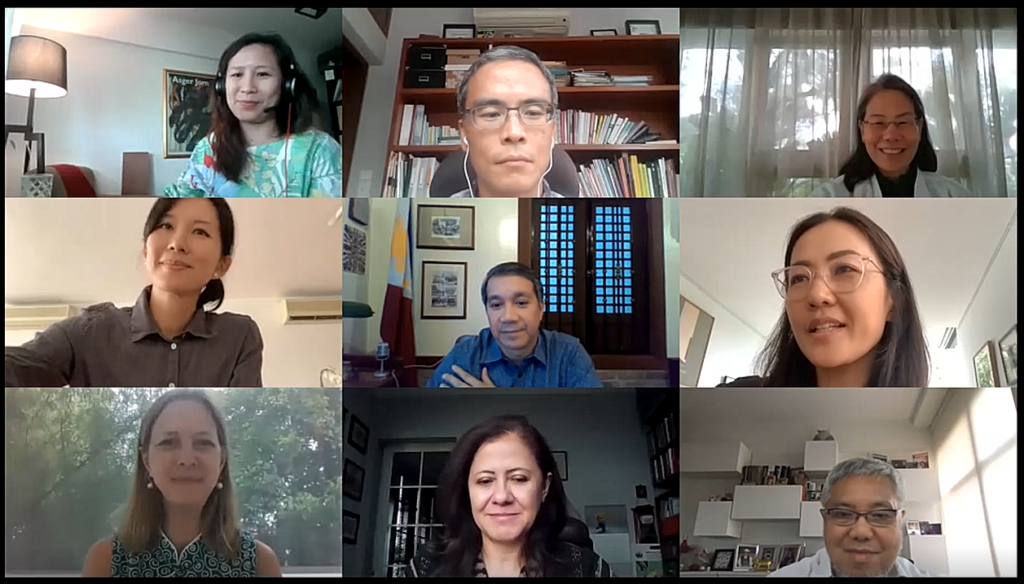 While such efforts are commendable and deserving of praise, there is still much work to be done. The economic effects of the pandemic reach far beyond the role of the state, leaving many gaps which philanthropy can fill. We hope that this dialogue will catalyse greater areas of collaboration and act as a starting point for future activity focusing on livelihoods.
---