What happens when an ocean titan, caretaker, conservationist, innovator, and philanthropist walk into a museum with a dinosaur from 150 million years ago? 
BY SARAH TAM
Nestled within Southeast Asia lies a vibrant marine biodiversity hotspot that serves as a lifeline for millions who rely on the oceans for food, livelihoods, and protection from natural disasters.
However, oceans face multiple looming challenges: overfishing, pollution, and climate change cast large shadows over its overall health. Yet oceans, despite storing 30% of carbon emissions and absorbing 90% of global temperature rise, remain the most underfunded of all the UN Sustainable Development Goals, despite its vital role sustaining life on earth.
The good news? The power to protect the oceans lies within our collective grasp in our commitment to creating a better world. Southeast Asia is also already home to a vibrant community working tirelessly to protect and preserve the region's oceans.
In celebration of World Ocean's Day this year, Rumah Foundation, Conservation International and APC gathered guests for an afternoon of learning, exchange, and appreciation of our marine resources at the Lee Kong Chian Natural History Museum amidst ancient giants, creatures, and specimens that once roamed Asia via land and sea.
The Vital Role of Philanthropy in Fostering Innovation
One message echoed clearly throughout the waves of discussions: philanthropy is a driving force in sparking innovation. Dr. Richard Jeo (Conservation International) emphasized how philanthropy has been essential in launching and sustaining ground-breaking research, action, and collaboration in Asia. Such research has the power to transform policies and drive markets away from destructive cycles, benefiting both communities and the environment.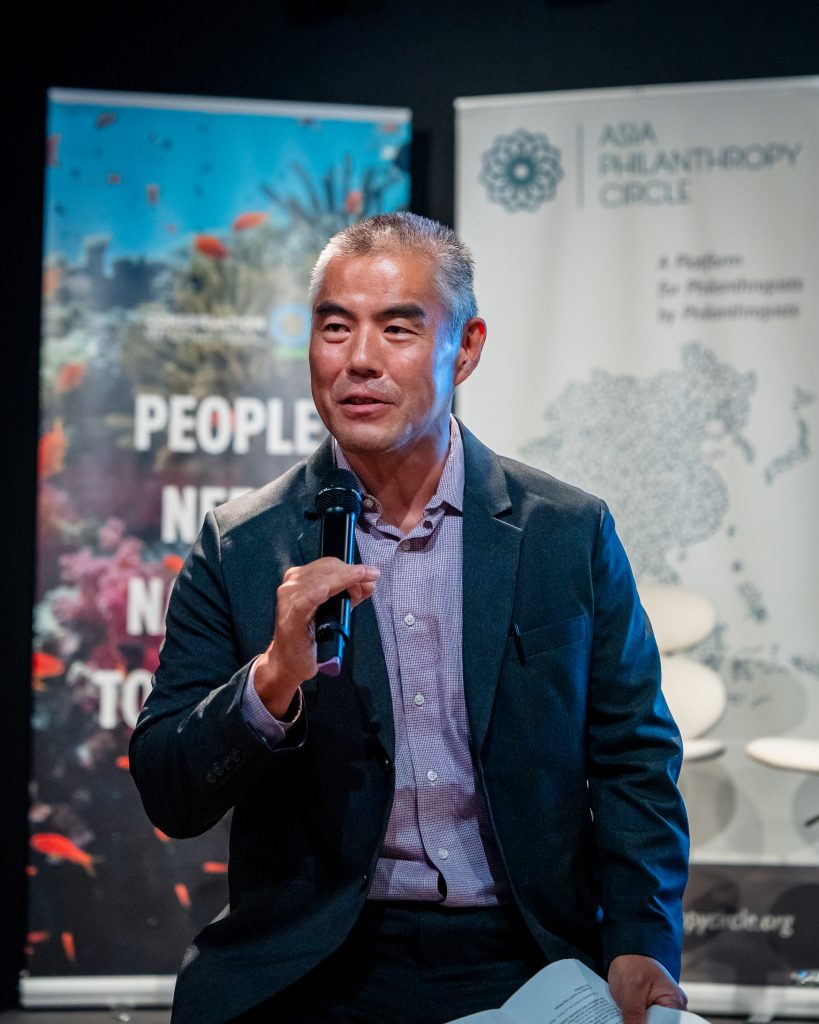 However, none of this can be done without collaboration. With a career spanning over 50 years as a marine biologist, educator, and champion of science, Prof Leo Tan (LKCNHM) offered insights into the power of multi-stakeholder collaboration. For example, the Singapore government is an active supporter of marine sciences and conservation, and have partnered up with non-profits, research institutions–including the Tropical Marine Science Institute (TMSI) and Lee Kong Chian Natural History Museum–to raise awareness about Singapore's coastal waters, and protect its reef and mangroves. By uniting communities, governments, and NGOs both locally and across borders, we lay a solid foundation for creating sustainable climate solutions. 
Insights from the Frontlines
How are ocean conservationists and caretakers addressing this in Indonesia?  
Former APC executive Rafid Shidqi founded Thresher Shark Indonesia, an organisation that blends research with empowering local communities. He shared that the work is not just about saving sharks—but also about helping fishing households find alternative livelihoods and empowering indigenous youths to lead marine education efforts. [Note: since the event, Rafid has embarked on a new path pursuing his PhD in Marine Science and Conservation at Duke University Nicholas School of the Environment!]
Likewise, Nesha Ichida is working passionately to bring balance back to our oceans through ReShark—a collective of over 60 organisations devoted to saving threatened sharks. ReShark serves as Nesha's base to hatch and raise Charlie, Kathlyn, and Audrey—a family of endangered shark pups—before releasing them into the protected waters of Raja Ampat.
For philanthropists, it's a reminder that philanthropy is both an art and a science. The climate crisis demands a broader perspective beyond mere metrics, and requires patience, deep trust in those who drive change, and steadfast dedication. The returns from these projects aren't just financial; they're the fuel for scientific breakthroughs and catalytic innovation.
Shaping a Resilient Blue Economy in Indonesia
At the same time, addressing the ecological and economic balance of oceans requires strategic collaboration between governments and markets. 
Blue Halo S, a pioneering initiative led by the Government of Indonesia and supported by the Green Climate Fund, Conservation International, and Konservasi Indonesia, offers a novel approach to ocean conservation and fisheries management that bridges environmental protection and economic development.
To Enki Tan, the architect behind Blue Halo S, aligning market incentives with conservation priorities doesn't just save oceans, but also helps to cultivate a sustainable economic ecosystem where environmental stewardship thrives. Meizani Irmadhiany (Konservasi Indonesia) echoed this, and highlighted the importance of engaging local communities with empathy, emphasizing that receptiveness to these projects often hinges on buy-in from local authorities and communities.
Coming together for oceans in Southeast Asia
Interest in Southeast Asia's marine environment and its contribution to livelihoods and communities here, is only just starting to develop. We hope to continue growing this community of like-minded individuals who are nurturing, developing, and advancing a range of solutions that can restore both the ocean and the climate, for people and planet.
In the coming months, APC is teaming up with Conservation International to organise an Ocean Learning Trip to Timor Leste where members have the opportunity to witness impactful community-based initiatives at the development, climate, and ocean nexus in one of the youngest nations in the world. Then, in November 2023, APC is heading to COP28 with partners to uncover the stories and showcase the value of Southeast Asia's Seas. Stay tuned!